From South of England Gundog Club in Maidstone, Kent, England 28 April 2013.

Best bitch , BOB , Thurbajen´s Flighty Fennel With Eremos (E. Carpenny Austin u. Thurbajen´s Whoops A Daisy)

Best male , reserv BOB , Barleybay Broderick (E. Bilbo Baggins By Baileydale u. JW SHCH Baileydale Golly Gosh)
Two outstanding labradors, very much the same type. Both impossible to neglect and hard to separate from each other.
The dog was very solid and radiated goodness and confidence, but today he lacked a bit in coat. Reserve Best of Breed
The bitch on the other hand, was in full bloom today and with an excellent presentation by the owner,
she helped us to make the decision to put her up for Best of Breed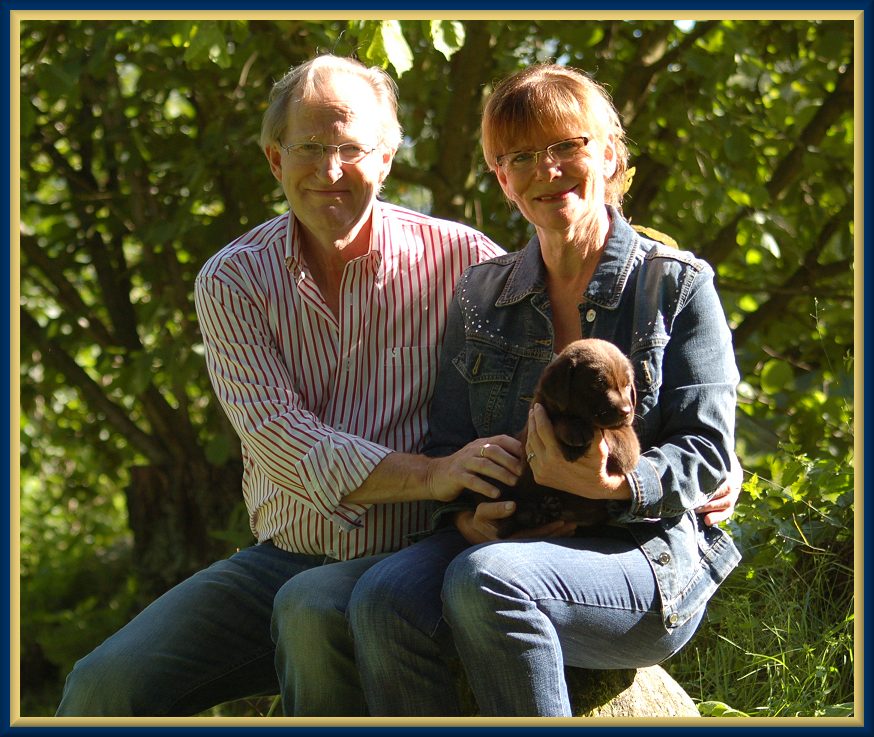 It was the faithful, pleasant temperament and the will to please, that made
us choose a Labrador Retiever in the beginning of the seventhies,
a most devoted companion, both in the forest and around,
a loyal friend for the children as well as a good retriever in the fields.
1976 Vagants Glitter was purchased from Mrs. Karin Wallin, who was one of
the earlier breeders in Sweden. A yellow male who could just fulfill the
above qualities. We visited a few shows with CCquality as a result. Later it also
appeared that a great percent of "Glitters" offspring turned out to be
exellent guide dogs,and besides,they were very healthy and sound at old age.
Two other dogs that meant a great deal to us, was Abigail´s Daydreamer and
full CH Miss Norway av Vihahund, both of Norweigan brred. Miss Norway was
after Eng. SH.CH. AM. Ch Receiver of Cranspire. "Abbe" attained his CC´s in
tact and speed and became Best in Show on one of the Spaniel and
Retrieverclub shows in 1997. "Sprallan" achieved five CC´s as well as
several BOB and eventually she became a Full Champion. She was also a
faithful assistant to her master in the fields. Last but not least she was a wonderful family pet.
In 1984 Country Song´s Happy Arosca was purchased from Mrs. Mona Holmqvist.
She turned out to be the Kennels foundation bitch.
Be welcome and have a further look at our Labradors through the years!
Special thanks to
all of you who throu the years helped us with many of our photos

J.C.Ericsson, M-L Åkesson
E. Hallqvist Fransson
M. Rees L. Larsson
Maria Fernanda
Y. Westerlund
A. Erlandsson
Fam. Johansen
Fam. Samevik
Kestin Meinen
J.M. Green
E-L Cale´n
J. Fransson
S Gradler
L. Bovier
J. Heine
Tjotte